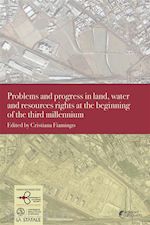 "Problems and progress in land, water and resources rights at the beginning of the tihird millennium", Altravista 2016, SHuS' first publication
"Problems and progress in land, water and resources rights at the beginning of the tihird millennium", Altravista 2016, SHuS' first publication
We are very happy to share the link to the e-book:
"Problems and progress in land, water and resources rights at the beginning of the tihird millennium", Altravista 2016 [ISBN 9788899688158] .
The book just came out under the auspices of SHuS [Interdisciplinary Research Centre SUSTAINABILITY AND HUMAN SECURITY: Co-operation and governance agendas] of the University of Milan, that decided to share it in open access in order to create a seamless connection between scientific communities and the wider civil society.
We are pleased to quote here the dedication:
"This volume is dedicated to the memory of Sara Crippa (Segrate, 25 May 1977- Katmandu, 3 June, 2017). Sara was an exceptional woman, who in her outstanding MA research into a massive water-management project (Burkina Faso, 2003), prioritized the role of the people of the Kissirigouem district. Her whole life was indeed dedicated to deploying correct and sustainable resource management in an effort to spread social justice, and together with her husband Filippo De Monte, she brought up their children in these environments. From 2004 onwards Sara was both participant and/or leader in various cooperation projects in Chad, Tanzania, Niger, Kenya and then, finally, Nepal. Her life is a shining example of coherence and working on the cutting edge. It is our great pleasure, indeed, to remember her as a supporter of the values that SHuS has inherited from SIII and recall her presence in the 2008 SIII workshops, all of which will surely inspire us for the future.".